SNEAS 2004
featuring members from:
Touch, The Mojo Hands,
Tangerine Zoo, Mixed Emotions,
Young Neal & The Vipers,
Dirty Deeds, FedUp, the URGE, the Nakeds and more...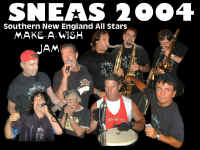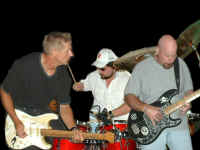 Everyone enjoyed the live Rock and Roll show on Bristol's waterfront!
The 1st annual S.N.E.A.S. (Southern New England All Stars) was held at
Gillary's Lounge on Thames Street in Bristol, RI
What is SNEAS? Well, that was Ronny Medeiros' acronym for
Southern New England All Stars
This show was put together as a way for talented local musicians to get together,
jam a few tunes and have some fun.

While getting together and having fun is a great reason to do the show,
we also felt we could help the community at the same time.
Peter contacted the Make-A-Wish Foundation
(Pete and George had worked with them previously with Steve Smith & the Nakeds)
after a few meetings,
SNEAS Make-A-Wish Jam 2004,
a tribute to local talent, and benefit for the Make-A-Wish Foundation was on it's way.

We'd like to once again thank all the local businesses
who generously donated prizes that were raffled at the show,
Peter Quintal for working so hard, and keeping everyone focused,
Mike at Gillary's for helping to make this show a reality,
and everyone else who worked to make it happen.
Proceeds and donations were given to the
RI Make-A-Wish Foundation